I spent the day at home, sick - again - today. I'm really getting tired of this. At least, though, I was healthy over Thanksgiving. The long weekend was just wonderful. My mom had to work on Thanksgiving Day, so my parents had us all over for dinner the night before. That pretty much meant that Thursday - Saturday was uninterupted free time at my house. Oh, yeah, and they kept the kids, too! (don't throw things at me!)
Lots of quilting and cleaning. We're in the process of shifting my sewing space into the school room and vice versa. The boys will have a much bigger space downstairs, and I'll be more cozy in my little area. On top of all that, and trying to finish
Sierra's quilt
, I've started three new quilts. One for my dad for Christmas, one surprise that I can't show, and the
GenX Quilters' Quilt Along
.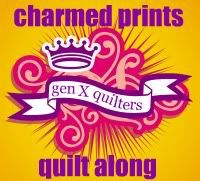 I know, I know, I needed the quilt-along like I needed a bump on the head, but I just couldn't resist. I had half of a Odyssea layer cake left over from another project, which divides perfectly into two charm packs. There are options to make a crib quilt with one pack, or a lap with two. The boys have been bugging me for another quilt in the living room, so here it is. Maybe for Christmas??? We'll see...
The quilt is mostly charms with a few "highlight" blocks mixed in. Stars, Churn Dash (or Greek Cross), Diamond in a Square, and Pinwheel. I finished a star and churn dash earlier this week and then decided to reorganize. I shifted gears, cut all the fabric for my highlight blocks, labelled the devil out of them with stickies and pins. Stopping to organize helped a lot, though, as I finished all the diamond ones tonight and will soon have the others. They go so much faster when I can chain piece!
As soon as my room gets set up, I'll be posting lots of pictures. I will be painting, decorating, and doing all that fun stuff. I wasn't able to do all that in the basement for, well, lack of walls.
Oh... and hubs has told me he'd help me make a design wall. Eep!!
Happy Monday, ya'll!