It's that time of year, again... Blogger's Quilt Festival! The time for all of us non-market-goers to have our own little party.
When I
first posted this quilt
last November, I knew I loved it, but I've been completely overwhelmed at the response. 1,183 page hits...the most of any of my quilts by far. I didn't have it up in time for last fall's Quilt Festival, so I'm posting it for this one.
I made this quilt for my friend, Jane. She and I met via my best friend Ashley as part of a beach trip years ago and continue to go on the same beach trip and have made many others. She's a runner, too, and I gave her this quilt during our last half-marathon trip...in beautiful Savannah, Georgia.
The pattern is
Full Swing
by Rachel Griffith and I used a black-and-white bundle from Fabricworm with Kona White for the background. The back is a gorgeous fabric I picked up at a fabric store in Charlotte. In fact, I bought the backing fabric before I had even picked out the quilt pattern! You can also see a hint of some black-and white half-square triangles on the back. The strip is a nod to our much-loved Cape Hatteras Lighthouse and our wonderful beach trips.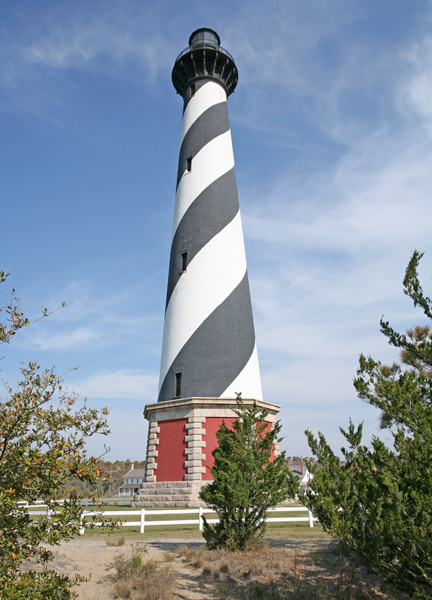 Photo from lighthousefriends.com
The quilt is about 50" square and I quilted it myself on a long-arm that I rent at my local quilt shop. Binding is Kona Black, sewn on by hand.
Photos are at the beach house we rented on Tybee Island, just outside of Savannah. It was a beautiful house and the town reminded me a lot of the NC Outer Banks.
When I finished taking pictures, I went upstairs to her room and spread it across her bed. It took her for-ev-er to go upstairs, and I think my friend Lisa and I ended up designing a scheme to get her up there.
To say the least, she loved it. Hope you do too!